Frying is the oldest, time-tested method of heat treatment of food. Frying reveals the true taste of meat and vegetables, making it particularly bright. It is this "magic" property of frying that inspires manufacturers of household appliances for cooking to create new models of grills, and customers are pushed to culinary experiments. How do you find the right grill for your needs and what should you look for before buying?
Roasting meat on the grill, especially in the bosom of nature, is not just about cooking! A barbecue at the weekend with family and friends becomes an exciting event: housewives and guests gather in advance to prepare meat and vegetables, enjoy the process of burning the fire, slowly pour the drinks and enjoy a relaxing and excellent meal at a pleasant conversation. Grilled dishes are not just tasty and beautiful, they are also more healthy than frying in a frying pan in oil. It is known that when grilled, part of the fat contained in meat, fish or poultry is, on the contrary, melted.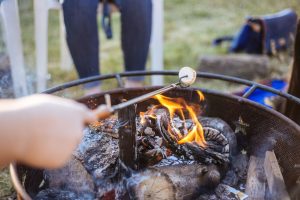 However, not every grill is suitable, for example, for use in a city apartment. The wide range of models that are available today also suggests that people with completely different cooking skills use the grill. There are models for beginners as well as devices for experienced cooks and professional cooks. Let's take a closer look at the basic characteristics of grills, study their features and capabilities. So, what types of grills do modern manufacturers offer?
Types of grills: what to choose?
Gas grills
According to Grill FAQ, fuel for gas grills is, as its name suggests, gas. Such a grill is something like a gas stove. At the heart of the design of gas grills – a panel of high-strength and heat-resistant metal alloys with different number of burners and cast iron or steel grilles. In addition to the grids in gas grills, there is often a spit for skewers. One of the obligatory elements of a gas grill is a metal hinged lid with a handle. Many gas grills have small cooking stalls on the sides and underneath the grill there is a cabinet for cans and tools.
In addition to the mandatory elements, the gas grills can be equipped with additional ones, which make it easier to use and maintain. These elements include electronic or piezo ignition systems, additional heating grilles, gearbox for disposable gas cartridges, removable fat tray, temperature sensor under the lid and others.
Typically, gas grills – as, by the way, and stoves – are large stationary structures. However, you can also find compact portable models or medium portable grills equipped with wheels for easier transportation.
The volume of gas grills is calculated based on the number of burners: from 1 burner in the miniature portable grills and up to 6 burners in the large models, designed rather for use in the general public. The power of the burners varies from 1.9 to 18 kW.
Contrary to popular belief that a classic grill should definitely be a charcoal grill (in association with the usual charcoal grill), it should be noted that in reality many restaurants and steak houses use gas grills, and not by accident. Among their advantages are instant ignition and the ability to quickly and accurately adjust the temperature. Rational fuel consumption and no waste after cooking are also important. However, these indicators are still most relevant for large models working on the flow – in cafes and restaurants.
The cost of gas grills is usually higher than that of coal grills and depends on the manufacturer, volume and functionality of a particular model. The price of the simplest portable models with one burner – about 15 to 30 thousand rubles. Models with 2 burners are about 30-50 thousand. And professional gas grills, in which from 3 to 6 burners, will cost 50 to 300 thousand rubles or more.
Corner Grills
The charcoal grill is considered a classic. It is the most popular, understandable and familiar type of grill to most of us. It is fuelled by charcoal, which is put into a bowl of grill and smolders for a long time, providing the temperature you need for frying.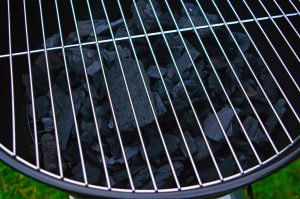 It would seem that this type of grill is no different from a traditional grill, but there is still a difference. The charcoal grill comes with a lid, under which food is cooked in the same way as in the oven and the heat is distributed evenly. On the grill, meat and fish are baked only from the bottom, so they need to be turned from time to time.
That's interesting

It is believed that the first charcoal grill was an ordinary sea buoy cut in half: the lower part was a bowl and the upper part was a lid.
Usually, the charcoal grill has a rounded shape and there are also models in the shape of an egg. The material for the charcoal grill roasting surfaces can be stainless steel, ceramics or cast iron. There is no big difference between them, although consumers note that ceramic grills are easier to take care of – fat and soot from ceramics are washed away more quickly. The charcoal grill is not only suitable for roasting meat, it is also suitable for baking, cooking pizza and much more. The temperature can be controlled by means of special valves for air access – the process is not complicated, but it requires special knowledge or experience: a novice person may be wrong about the setting.
When using a charcoal grill, the quality of the charcoal is important: how fast it burns out and how hot it is. This varies from brand to brand, and the best fuel can only be found through experience.
You can only use the charcoal grill outside. There are both massive stationary models and very small portable grills to take with you on a picnic. A small mobile grill, which is enough for cooking dinner for 2-4 people, can be bought for about 7-10 thousand rubles. Premium stationary grills will cost you about 100 thousand rubles or more.
Wood or wood
These grills work on firewood or wood chips. Usually they are constructions without lids. The charcoal grill is just the kind of grill that everyone is used to. Since wood gives a lot of smoke when burned, you should not use such a device indoors.
The principle of operation of a wood grill is very similar to that of a charcoal grill, the main difference being in the form of fuel. The cheapest way to use such a grill is to use it. Gas and quality coal are more expensive than firewood, and during a picnic you can collect firewood yourself in the woods, absolutely free.
However, wood grills have a number of significant disadvantages. In particular, lunch will have to wait a long time: to cook food you do not need a flame, and hot coals, and therefore have to wait until the wood is completely burned. Fuel consumption is quite high – especially in those models that do not allow you to control the speed of burning firewood.
Most of the high quality wood grills that are available for sale belong to semi-professional models, which are equipped with an extractor hood and are designed for cooking large quantities at a time. Therefore, their price is usually high – from 80 thousand rubles.
Electrogrills
Very widely represented on the modern market, because it is a win-win and absolutely affordable option for all barbecue lovers – not only beginners, but also gourmets.
Among them are contactless and contactless electric grills. Contactless grills are devices with the simplest possible construction made of an open heating coil and a tray for collecting fat and juice. Not quite convenient for home, as the fat that is heated from meat in such models can drop directly on the spiral, smoky kitchen.
Contacts involve cooking food directly on the worktop. This is the most popular type of grill: the models are functional, simple and easy to use, and no additional effort or equipment is required for cooking on them.
According to their principle of operation, contact grills are divided into two:
One-sided – only one side of the grill is heated, which increases the cooking time as it needs to be turned over.
Two-sided – this allows you to grill food on both sides at the same time, which reduces the cooking time. These models usually allow you to adjust the distance between the food preparation presses for different thicknesses.
Combination – combines the functionality of one-sided and two-sided presses, making them the most popular.
Electric grills are divided by the type of design:
Open (without lid);
Closed (with lid);
Universal (with a choice of cooking method).
Electrogrill – multifunctional device. It can cook meat, fish, poultry, toast, croutons, and sometimes even pancakes, pizza, bread, casseroles, vegetable dishes, eggs and much more. That's why electric grill will be useful not only for barbecue fans.
The body of the electric grill is usually made of plastic or metal. Models in the metal case are more reliable, but they cost more. The work surface of a charcoal grill is usually non-stick – it prevents food from getting burned and makes it easier to care for. Some manufacturers offer models with a vitrified clay or enamel surface – they require gentle handling, are less durable and therefore are in lower demand. The grill surface can be completely flat or grooved. Some models are equipped with different removable grill plates so that the user can choose the right one.
Additional features include flexible temperature control, a cooking timer, a delayed start option, automatic shutdown, as well as the ability to adjust the angle of the grilling surface to remove fat and juice during cooking and a removable tray for easy maintenance.
The contact electric grill will cost about 5-15 thousand rubles, although you can find quite inexpensive mini-models in the area of 2-3 thousand rubles.
Ceramic grills
Also known as kamado-grills. Kamado is a Japanese traditional ceramic stove, whose potential after the Second World War was appreciated by barbecue fans in the United States. Thanks to this, the well-known today's design of the grill has appeared in the form of an egg – a synthesis of centuries-old traditions and modern technology.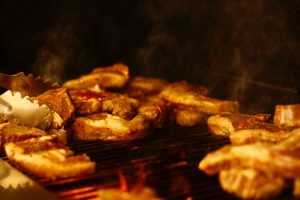 Ceramic grill is a construction with a dome-shaped lid, its walls are made of high-strength ceramics, which ensures the heating of products not only through the movement of hot air, but also through infrared radiation from the heated inner walls of the grill. Grilled food of this type is as juicy as possible and its taste is rich. The thick inside walls of the grill keep the food warm and cool for a long time, which greatly expands the range of kamado options. They are suitable not only for the traditional grilling of food on the grill – steaks, fish, vegetables, burgers, but also for large dishes such as chicken or whole turkey, as well as for baking – pies with filling, etc. Experienced cooks use these grills for languishing as well.
The fuel for this type of grill is coal, which – if used skilfully – needs a minimum. You can also use a kamado with wood chips, in which case it will serve as a smokehouse. The surface of the grill and the lid will not reheat even if the inside of the grill is intensely heated, so there is no risk of burns if you touch it accidentally. Kamado grills can easily replace an oven, smokehouse, traditional wood oven or charcoal grill.
Just for the record

Ceramic grills keep heat for a long time, so they are suitable for use even at minus temperatures.
Typically, manufacturers offer a wide range of ceramic grills, from miniature grills for 2 steaks to large-scale grills designed for catering establishments, where you can cook up to 12 steaks at a time.
Depending on the size, the Kamado-grill can be stationary and portable. The functionality of the good models includes a thermometer built into the lid, a latch, height-adjustable grill grids for simultaneous cooking at different heat levels and an ash collection system.
The ceramic grills are ideal for the country house, where you can use their full potential. Small models can also be used on the outdoor terrace of a city apartment – of course, as long as safety regulations are observed.
Ceramic grill – quite expensive device, it will cost you about 80-130 thousand rubles.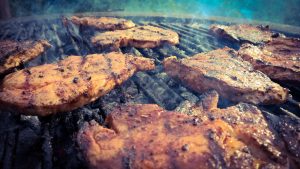 Grill-frying pans – the easiest, cheapest and most compact solution for those who like grilled dishes. If you have such a frying pan in your kitchen, you can grill meat even on a regular gas or electric stove. The bottom of the grill frying pan is ribbed, which allows you to grill meat evenly without drying it out, and excess fat flows into the grooves between your ribs. The best grill frying pans are made of cast iron or ceramics, although there are many aluminium and steel models available. However, professionals prefer cast iron – even if it is a heavy material, and cast iron dishes are not so easy to take care of (in the dishwasher such a frying pan is not worth washing), but it evenly warms up and perfectly keeps warm. High-quality grill frying pan can be bought for 1500-3500 rubles.
Types of grills
By type of grill divided into stationary and portable. Stationary grills and barbecues are usually quite massive structures with no possibility of moving. The most common are gas, electric and coal stationary models. When planning to buy a stationary grill or oven for your country house, you should take care of its connection to the electricity supply in advance, taking into account the safety of use in wet weather. For gas grills, additional space for a gas cylinder should be provided in the calculations. Stationary grills cannot be transported, so it is also worth thinking about where to keep the grill.
Fixed models have a number of advantages over portable ones, among them:
A larger grill surface, which allows you to cook different dishes at the same time;
a large work area where you can conveniently cut and cook food;
space for fuel and dishes.
The portable grills require less space and fuel and are easier to use and maintain. However, compared to stationary grills, they have limitations in functionality and volume for simultaneous cooking.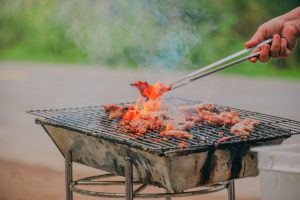 Stationary grills are great not only for country houses (especially if you have a large family or regularly invite guests), but also for cafes or outdoor restaurants. If you intend to use the grill at your summer cottage only, or if you like to enjoy a barbecue at a picnic, choose the smaller portable model.
Just for the record

When buying the grill, do not forget about additional accessories: pallets and trays, burgers, whole poultry baking racks, spinners, grease collectors, tongs, thermometers and other devices that will certainly be useful during cooking.
Country of manufacture
Grills are produced in many countries, particularly in Germany – many famous brands come from there. The USA with its long tradition of barbecue is also among the leaders, American brands have long and well established themselves in the market. Domestic companies are also actively mastering the "grill market", trying to offer the buyer a favorable price/quality ratio.